Innen und Außen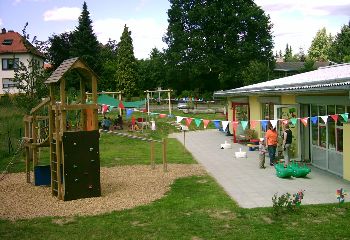 Lage
Seit 1. Dezember 2003 hat der Kindergarten "Little Friends" ein neues Zuhause in OberfĂŒrberg, Rennweg 85 gefunden. Am 7. Januar 2015 wurde dort auch unser zweigruppiger Krippenanbau eröffnet.
Location: The "Little Friends" moved to their new home in FĂŒrth-OberfĂŒrberg, Rennweg 85 in December 2003. In January 2015 a crĂ©che with two groups for the one to three year olds was added to our already existing kindergarten with two groups for the three to six year olds.
Architektur
Unsere KindertagesstĂ€tte ist in einem gerĂ€umigen, hellen Flachbau untergebracht. Der gelbe Außenanstrich mit roten Akzenten (Kindergarten) bzw. der rote Außenanstrich mit gelben Akzenten (Krippe) verleihen dem Haus ein freundliches, fröhliches Aussehen.
Architecture: Our daycare center is located in a nice bungalow, painted in bright yellow and red.
Räumlichkeiten
4 GruppenrÀume
2 Garderoben
1 Gruppennebenraum
2 KĂŒchen
1 Turnhalle
1 BĂŒro
2 PersonalrÀume
2 Kinder-WaschrÀume
2 Erwachsenen-WC
1 Behinderten-WC
3 LagerrÀume
Description of the rooms
4 group rooms: Butterflies, Rainbows, Daisies, Sunshines
2 spacious hallways
1 art room at the kindergarten and 2 smaller additional room at the créche for naptimes
2 kitchens
1 gym room
1 office
2 staff rooms
2 children's bathrooms
2 bathrooms for the teachers
1 bathroom for the handicapped
3 storage areas
Ausstattung
GruppenrĂ€ume: Die GruppenrĂ€ume sind in verschiedene Spielecken unterteilt: Mal- und Bastelecke, Bauecke, Puppenecke, sowie Kuschel- und Vorleseecke. Außerdem stehen den Kindern mehrere Tische zum Spielen und Essen zur VerfĂŒgung.
What our group rooms look like: the groups feature different play areas. Every group has an art table, a building area, a doll corner and additional different play areas according to the individual needs and special interests of the children in the group (for example a cozy corner or play area just for the older children). There are several tables for the children to play and eat at.
Gruppennebenraum: Er verbindet die beiden GruppenrĂ€ume im Kindergarten miteinander und bietet Raum fĂŒr Kleingruppenarbeit, Vorschule und Kunstprojekte. WĂ€hrend der Freispielzeit dient er hauptsĂ€chlich als BegegnungsstĂ€tte der "Butterflies" und "Rainbows" beim gemeinsamen Malen und Basteln.
Art room: this room connects the Rainbows and the Butterflies at the kindergarten and is mainly used for art projects.
KĂŒchen: Gelegentliche Koch- und Backaktionen finden hier mit den Kindern statt.
Kitchens: Occasional cooking and baking activities with the children take place here.
Turnhalle: Jede Kindergartengruppe und die Ă€lteren Krippenkinder haben einen festen Turntag pro Woche. Außerdem nutzen wir ihn zum Toben und Bewegen, falls das Wetter zu schlecht ist, um lĂ€ngere Zeit draußen zu spielen. Die gruppenĂŒbergreifenden Musikgruppen finden hier statt ebenso die Selbstverteidigung am Nachmittag. Bei Festen und Veranstaltungen bietet der Mehrzweckraum Platz fĂŒr AuffĂŒhrungen und / oder BĂŒffets.
Physical Education in the gym: each group has P.E. on a certain day each week. We also use the gym room frequently with the children at times, when the weather is too nasty to spend a long time outside. The music groups meet there as well as the self denfense class. When we throw a party the gym room is used for performances and/or buffets.
BĂŒro: Vormerkung, Anmeldung, Organisation und Verwaltung.
Office: Pre-registration, registration, organisation and administration.
PersonalrÀume: Pausen, ElterngesprÀche, Teamsitzungen.
Staff rooms: lunch breaks, parent-teacher-conferences, staff meetings.
Außenanlage
Ein großer Garten fĂŒr den Kindergarten, in dem ein Kletterturm, eine Schaukel, eine Vogelnestschaukel, ein Trampolin sowie ein HĂŒgel mit Rutsche und Hangelseil zur Bewegung und zum Spielen einladen. Außerdem ein gerĂ€umiger Sandkasten fĂŒr ruhigere Spiele. Eine große Terrasse bietet mit Tischen, StĂŒhlen und BĂ€nken viel Platz zum Spielen und Rasten. Ein GartenhĂ€uschen mit vielen Fahrzeugen und verschiedenen Spielmaterialien fĂŒr den Garten ist auch vorhanden. Eine große Markise sorgt fĂŒr Schatten auf der zum Teil auch ĂŒberdachten Terrasse.
FĂŒr die Krippenkinder ist ein Teil des Gartens abgetrennt. Sie haben ihren eigenen Sandkasten, eine WeidenhĂŒtte und eine große beschattete Terrasse mit einem SpielhĂ€uschen und einer kleinen Rutsche, sowie Platz zum Befahren mit Fahrzeugen.
Garden: The entire facility is surrounded by a large and sunny garden with a good selection of toys and climbing frames, as well as swings, a trampolin, a sandbox and a shaded terrace.
Part of the garden is separated for the younger ones, with their own sandbox, a hut, a shaded terrace with a small play house and a slide, as well as a place to drive little cars etc.
Regelmäßig genutzte Spielflächen außerhalb
FĂŒr Naturerfahrungen nutzen wir den nahegelegenen Stadtwald. Manchmal besuchen wir auch den Spielplatz in der Nachbarschaft oder fahren mit dem Bus in den FĂŒrther Stadtpark mit den Ă€lteren Kindern aus dem Kindergarten.
In addition to our spacious garden we also have the forest right in front of our doors and take frequent walks there. There is also a playground in walking distance for a change of scenes and sometimes we take the bus with the older children and a pay a visit to the park in FĂŒrth.
Regelmäßige Besuchsorte
Besichtigungen öffentlicher Einrichtungen wie Feuerwehr, Polizei, Krankenhaus und des BRK-GebÀudes.
Theaterbesuche; Marionetten- und Puppentheater laden wir uns auch in den Kindergarten ein.
Museums- und Planetariumsbesuche.
Stadtpark
AusflĂŒge und Exkursionen passend zum Jahresthema.
Frequently visited places:
Visits to public facilities like the fire department, police station, hospital and the Bavarian Red Cross.
Theatre and museum visits, puppet theatres sometimes give in house performances.
City park
Field trips according to our annual topic.